Please click thumbnails for full color photographs and desciptions.

Depart Baton Roge for Boston. Walking tour of Boson historical streets and the "Freedom Trail." The North End. Quincy Hall Marketplace. Night Walk of lighting effects at the Christian Science Center.

Walking tour of the Boston Back Bay Fens, Fenway Park, Christian Science Center, and Copley Square. John Handcock Building by I.M. Pei. Beacon Hill, Boston Commons, Historical Cemetaries, the Old North Church. Roves Wharf- Multi Use Facility... Very High End condominiums overlooking the harbor. Boston is a very pedestrian friendly city. Little impact of surface parking.

Visit Mount Auburn Cemetery- dating back to 1831.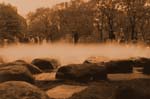 Beautiful with blooming dogwoods and many ornamental trees, all meticulusly maintained. Formerly used by Harvard students to study plants. Walking tour along Brattle Street, old Colonial Houses. Harvard University and the Graduate School of Design. "the Old Yard" allows the walks to dissappear. The Tanner Mist Fountain by Peter Walker. Office Visit: Carol R. Johnson & Associates. Harvard area campus walk.


Head south for Minuteman National Historical Park. Concord Bridge, home of the "Shot heard 'round the world." Extravagant Private Residence, Bedford New York. Large residential sculpture collection. PepsiCo World Headquarters by EDSA. Parking courtyards and extensive outdoor commission installation sculpture collection. Continue south to New York City. Walk across the Brooklyn Bridge and Brooklyn Heights Promenade.


Walking tour of Midtown Manhattan. St. John Episcopal Cathederal. Grand Central Station, Bryant Park by Laurie Olin. New York Public Library. Ford Foundation Atrium. United Nations Headquarters. Greenacre Park. CityCorp building. Seagrams Building. Park Avenue. Paley Park. Trump Tower. IBM Tower. Snoy Plaza. Rockerfeller Center. Afternoon Office Visit. Greenwich village and NYU. Very fast pace day with much to see and do.

Federal Building by Martha Swartz. China Town. Little Italy. Mulberry Street Park. Fulton Street Market. NY Stock Exchange. World Financial Center by Cesar Peli. Battery Park City. Wagner Park. Staten Island Ferry ride past the Statue of Liberty. Afternoon Office Visit. Empire StateBuilding. Dinner at the Broadway Cottage (where else?)

Central Park. Guggenheim Museum. Metropolitan Museum of Art. Belvedere Castle. Strawberry Fields. The Sheep Meadow. OfficeVisits.
click here to continue rest of trip